Strategic Plan Goals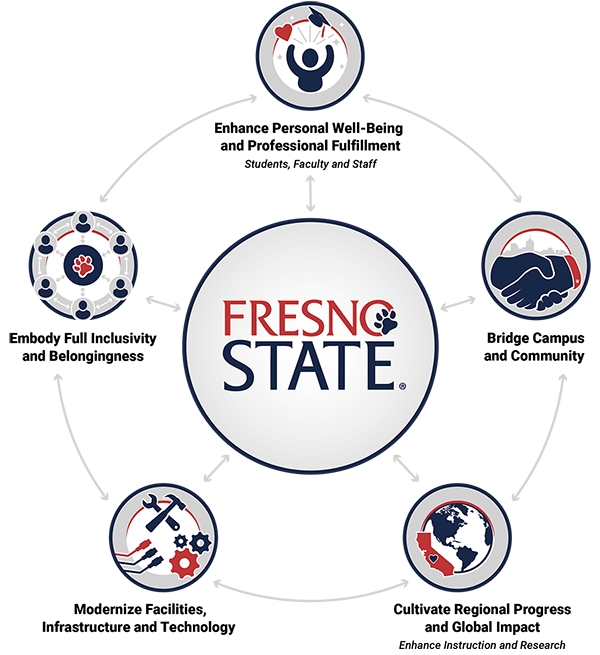 The 2023-29 Fresno State strategic plan is grounded on the principle that everything we do is connected and interdependent. Hence, the goals are depicted as a circular diagram rather than a separate list. This plan grows our collective strengths and the opportunities Fresno State provides our community, region and world.
One A: Enhance Students' Personal Well-Being and Professional Fulfillment
Fresno State is committed to providing an unmatched experience for students, so they can discover themselves and achieve their greatest potential. This begins with championing a culture of higher education within our region, supporting youth of all backgrounds to see themselves as college-bound students and making higher education accessible for all. With a commitment to fundamental needs, mental health, academic excellence and career success, Fresno State will be the "university of choice," preparing the next generation of leaders in our region and beyond.
One B: Enhance Faculty and Staff's Personal Well-Being and Professional Fulfillment
In order to best serve our students, Fresno State must invest in supporting faculty and staff. Faculty and staff are at the forefront of student success, and their satisfaction and involvement fosters a positive institutional culture. Supporting faculty and staff starts from day one, when they are recruited and onboarded, and the support must continue throughout their careers.
Connection to the community is key to a strong Fresno State. Enriching the relationships we have with others, enhancing our ties to community partners and elevating the university's brand are essential to advancing the university to greater heights.
Three A: Cultivate Regional Progress and Global Impact by Enhancing Instruction
Academic excellence is central to Fresno State. Hands-on learning experiences, as well as flexible, accessible educational opportunities that are aligned with employment trends, will allow students to succeed in the classroom and in their careers after graduation.
Three B: Cultivate Regional Progress and Global Impact by Enhancing Research
Fresno State will champion our Carnegie designation of R2, which reflects significant growth in research activity. We are committed to developing operational structures and providing resources that will allow our talented faculty and staff to advance research, innovation and creative work.
To nurture students' creativity and academic success, we must provide the space for all to flourish. This means ensuring Fresno State has the best possible infrastructure to support their needs, along with the needs of faculty, staff and community members.
Fresno State is committed to advancing equity, diversity and inclusion in all that we do. It starts with strengthening the sense of belonging and fostering a culture that believes our differences are sources of strength. By advancing training programs and student support initiatives, the university will be a leader in promoting an environment where all can thrive.
Fresno State's strategic plan is a dynamic action plan that will be adaptive to the needs of the institution as it evolves. To view the detailed strategies of each goal, download the full strategic plan.