Over 100 years of excellence

Fresno State has roots dating back to 1911, when the doors of the Fresno State Normal School opened to 150 hopeful students. Today, the student population is about 25,000 and the University has garnered national attention for its rise in prestigious college rankings. With majors in 71 bachelor's, 48 master's and three doctoral subject areas, Fresno State has come a long way from its modest beginning. To date, more than 235,000 alumni have migrated to every state in the nation and across the globe.
Industry Listening Tour
During January and February 2022, President Jiménez-Sandoval hosted six industry-focused listening sessions to learn how the University can better prepare students to lead the workforce of tomorrow. Following these discussions, campus leadership developed several goals and objectives.


Learn more about the tour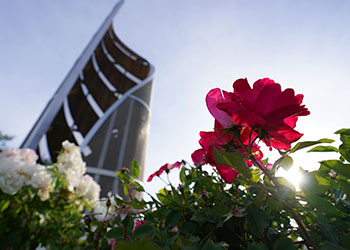 Title IX Task Force
In order to ensure accountability and transparency, we will create a task force, in partnership with the external Title IX consultants appointed by the CSU Trustees, who will provide guidance on implementing holistic responses to confronting sexual and gender-based harassment.

Learn more about the ongoing work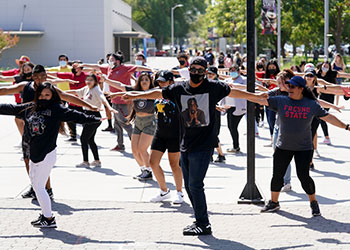 Alegría Mental Health Task Force
The Alegría Mental Health Task Force supports students, faculty and staff by promoting the mental health and wellness of our campus community through events and resources.
Learn more about the task force
President's Connection Booth
Share your questions, ideas and concerns with President Saúl Jiménez-Sandoval at the newly constructed booth located on the main path that leads to the Fresno State Library. With plans to visit the booth about twice each month, the president will also invite deans and other administrators to answer questions and build a stronger connection with the campus community through direct lines of communication.

For any persons with disabilities who anticipate needing accommodations may contact 559.278.2324 in advance.

Upcoming visits:
Tuesday, May 9, Noon to 12:50 p.m. - Joined by Dr. Kent Willis, Vice President for Student Affairs and Enrollment Management