Farewell to President John D. Welty





President Welty's Top Achievements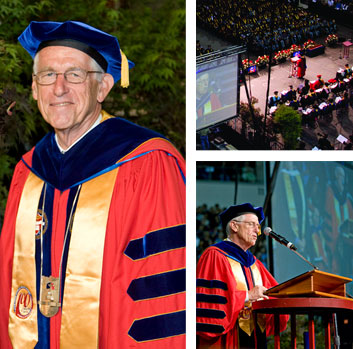 Excellent academic programs – Under President Welty's leadership, Fresno State has greatly enhanced its academic programs. Enrollment has grown from about 19,800 to over 22,000 students. The university today offers 61 undergraduate degrees, 45 master degree programs, and three doctoral degrees.
Doctoral programs – Fresno State was first in the CSU to implement an independent doctoral program in educational leadership, later adding doctorates in physical therapy and nursing practice.
Smittcamp Family Honors College – The Smittcamp family of Fresno endowed Welty's vision for a college within the university to offer an enhanced academic program for top-performing, multitalented students.
Library – A state bond and a gift from the Table Mountain Rancheria provided funds to build a new north wing and renovate the south wing.
Other campus construction – The Save Mart Center, Science II building, Kremen Education and Human Development building, Bulldog Diamond, Downing Planetarium and Gibson Farm Market are just some of the $425 million in new facilities constructed during President Welty's tenure.
Centers and institutes – The Lyles Center for Innovation and Entrepreneurship, Central Valley Educational Leadership Institute, Gazarian Real Estate Center, Central Valley Health Policy Institute, Maddy Institute and other centers have opened under President Welty's leadership.
The Richter Center for Community Engagement and Service-Learning – A $3.5 million gift from longtime benefactors Jan and Bud Richter established the center and spurred a significant boost in community volunteerism from the campus.
Private philanthropy – The Campaign for Fresno State, the university's first comprehensive fundraising exercise, raised more $200 million. During the Welty era, private gifts totaling more than $360 million were received.
Opportunities for women student-athletes – Fresno State Athletics' commitment to women's intercollegiate sports has grown to 11 sports: basketball, softball, volleyball, track and field, aquatics, soccer, cross country, golf, tennis, equestrian and lacrosse. Bulldog student-athletes have won conference championships and the 1998 softball national title. Fresno State's facilities for women's sports are among the nation's finest.
Diversity – To better reflect the population makeup of one of the nation's most diverse regions, President Welty moved to initiate programs to encourage students of all cultures and ethnicities to get a college education. He appointed a President's Commission on Human Relations and Equity, which developed and is currently implementing A Strategic Plan for Inclusion, Respect and Equity The campus-wide commitment to diversity includes a multicultural faculty and staff, diversity-focused research and academic programs and student-support initiatives, all of which set an example of inclusion for the entire community.
Student retention and graduation rates – Under President Welty's leadership, Fresno State has undertaken numerous initiatives to help close the achievement gap, producing recent and ongoing improvements in the number of students staying enrolled and graduating within six years. Gains are among the best in the CSU.
Mountain West Conference membership – The exposure that universities receive from athletic accomplishments attracts recognition and donor support for academic and research programs. Joining the Mountain West Conference in 2012 gave Fresno State a higher national profile while providing student-athletes a higher level of competition against which to measure their own abilities.
Greeting Youngsters

Greeting International Guests

Top Dog Event

Press Confrences

With Retirees